View Advertiser Index


January 2006

After attending the 2006 Columbus Swap Meet I have the racing bug a biting.

Some tidbits of the area for the early 2006 Race Season include.

Former dirt track Star Clint Bowyer has now moved up to the NEXTEL CUP running the 07 car for RCR Racing. It is nice to see the locals doing so well at the upper levels..

Josh Carpenter, Wade Wagenblast, Troy Atwood and David Trauernicht are one that I have heard about going to Texas next month to start their 2006 race season.

Rumor mill has it that Jordy Nelson of Marysville, Ks will be running the full season at Beatrice Speedway in the IMCA Modifieds after running at Thunderhill Speedway, KS last season and picking up his first two career Modified Feature Wins..

Brandon Johnson of DeWitt will running the former David Trauernicht Larry Shaw Modified this season..

Josh Houseman, Billy Parde, Aron DeWalt and Cody Walters will be among the rookies in the IMCA Hobby Stock Class at Beatrice Speedway.

Beatrice Speedway named Tim Fralin as the promoter and the racers and fans are very excited about the upcoming season to see what kind of exciting changes Tim will bring to the race track.

The Speedbowl at Red Cloud named Don and Paula Bolt as the new promoters. The Bolts are well known promoters to the area as they also promote Elmwood Park Speedway and Oberlin Speedway in Kansas.

Butler County Motorplex is once again IMCA sanction in the Modifieds, Stock Cars and Hobby Stocks and will be racing once again on Friday nights which seems to have plenty of fans and drivers excited as it is always a great show.

Al Langdale the former promoter at both Beatrice Speedway and Thayer County Speedway has been name the new IMCA Central Region Director. Best of luck in the new position Al.

Jet Racing once again signed on as the IMCA Stock Car Northern Region Sponsor.
Beatrice Speedway is one of the first tracks in the country to sanction the new IMCA Sport Compact Class which will be a cheap startup class with a person being able to get into this class race ready around 1000-1500 dollars..Should be a big class in the future.

Brian Langdale the owner of Extreme Motorsports in Beatrice would like to announce his new website and invite everyone to take a look at it. The address is www.xtremerace.net

Beatrice Speedway Factory Stock driver Ronda Mewes and Hugh Carmichael are expecting parents with the new little boy due May 10th. This will definitely be a little one born with racing in his blood.

Bob Zoubek and Tom Petracek both are rumored as going to be running the whole 2006 season at Beatrice Speedway. It will be nice to see both back at the speedway along with their fans.

Mark Saathoff and Kevin Vanlaningham will both be running the B-Modifieds at Beatrice Speedway in 2006.

L.L. Motorsports has built cars for both Kevin Larkins and Chris Alcorn. Larkins car was at the Columbus Swap Meet and looked nice.

Lyle Slama will be a rookie in the Factory Stock Class in 2006 at Beatrice Speedway. He purchased the old 15j ride of Jason Jensen.

Hats of to both D-Sign Shop and Harris Decals on the great looking lettering jobs on the cars they had lettered at the Columbus Swap Meet.

The Thayer County Speedway will be running on Sundays once again with the fairboard running the show...

This just in off the wire David Murray Jr picked up his first win of 2006 at Central Arizona Raceway last night..Looks like David is picking up right where he left off in 2005.

Beatrice Speedway Hall of Fame is having a Daytona Party at Risky's Sports Bar and Grill in Beatrice with all proceeds going to the Beatrice Speedway Hall of Fame.

Best of luck to everyone in 2006 and I will be seeing you AS THE CHECKERS FALL...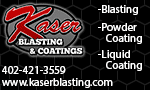 View Advertiser Index
Like to Write?
dirtdrivers.com is always looking for energetic people to write articles about local racing. Email us if you would like to join our team.