View Advertiser Index
---
Subject: Don't forget to renew your number, licenses, pit pads

Posted by
Message
BigAck

I-80 Speedway Rep
Posted on 2/14/2018 10:20:22 AM

Pit Pads, Number Fees, Licensing, & Registration Ė

IF YOU WOULD LIKE A REGISTRATION PACKET MAILED TO YOU PLEASE CALL OUR OFFICE at 402-342-3453 OR MESSAGE OUR PAGE WITH YOUR NAME AND MAILING ADDRESS.

Receivers will be mandatory in all classes for the 2018 season. Orange Westhold Transponder pouches are also required for all events.

All numbers from NASCAR sanctioned classes last year (Super LM, Modifieds, SportMods, Stock Cars, Bragging Rights Late Models, Hobby Stocks & Compacts) will be held till March 15th.

Available till March 15th: Free Number Registration with the purchase of your NASCAR license from I-80 speedway, please come to the office or mail your paperwork into the office to receive this discount. The premier division license is $205.00 and Charger classes along with crew licenses are $100. The licenses will give you a discount at the gate on all NASCAR sanctioned events, along with an insurance policy of 1 million dollars through NASCAR during sanctioned events. If licenses arenít purchased from I-80 Speedway or purchased after March 15th the number fee will be $25 per class. Competition in the same car in 2 different classes will NOT be permitted in 2018. EIRI A driver can compete in 2 classes with 2 different cars but the driver will be required to pay a $50 entry fee and be registered to race in both classes. This will not include the SLMR entry fee.

We will have 47 concrete pads available for purchase the price is $175 per pad and they will be reserved on the NASCAR sanctioned events only. Dirt Pit pads located around the guard rail and other areas of the infield can also be reserved for $75 these stalls will be 10 ft wide (a $10 late fee will be charged after March 15). All Pit Pad Spots that were purchased in the 2018 season will be held if paid by March 15th. After March 15th the concrete pads that are not paid for will be given to the premier divisions first and down the tiers. If you had a concrete pad last year you must re-reserve and pay by March 15th so we donít reassign it to someone else that is on our waiting list. You will not be able to park on a pit pad on any NASCAR sanctioned event if you do not purchase a pit pad. We already have quite a few drivers on the pit pad waiting list so be sure to get yours in ASAP if you would like to keep your spot. We want the pit pads to be used as much as possible as it is part of the fans experience and enjoyment in the grandstands to watch the crews working on the cars and that is the main reason for having pits in the infield. IF you have a concrete pit pad and cannot attend a NASCAR weekly event please ask someone to utilize your spot. If your pad is not used 75% of the time in 2018 your pad will not be held for renewal for the 2018 season and if you want to purchase a pit pad in 2019 you will be treated as a new person on the pit pad list rather than a renewal. Thanks*

*Number Registration forms can be found on the website www.i-80speedway.com under team info →Forms.

Numbers, Pit Pads both concrete & dirt, Decks & VIP parking can all be purchased on our website www.i80speedway.com under team info -> Renewals.

NASCAR licenses can also be purchased on our website by clicking the green star to the right of our page that says click here to renew your NASCAR license.

Same as last year we will have registrations for our races available on our website as well. Spring Meltdown & Bugeater Bash will be available soon under team info -> driver pre-entry.

Tickets will also be available soon for purchase in advance by clicking schedule then selecting buy tickets next to the event you would like to purchase tickets for.
Thanks and see you all in 2018!

---
To post messages you must be logged in as a member of dirtdrivers.com.

View Copyright Infringement Contact Information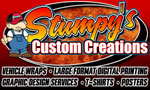 View Advertiser Index
Register
Become a registered user of dirtdrivers.com!

Register Now!
Dirt Driver Directory
Ever wondered what your favorite driver does for a living? When he or she started racing? What is behind the number on the car? You don't have to wonder anymore!

View Dirt Driver Directory
Classifieds
Looking for any new or used racing parts? Check out our online classified section to help find the parts you need!

View Classifieds