View Advertiser Index
---
Subject: Meet our Drivers - Ben Schaller

Posted by
Message
BigAck

MBSLM Series Rep
Posted on 3/13/2018 10:31:12 AM

Malvern Bank Super Late Model driver profiles for 2018

Ben Schaller

One of the drivers who was in the thick of the 2016 SLMR championship battle was Omaha's Ben Schaller. Schaller picked up his first SLMR career wins in 2016 with back-to-back wins at the Adams County Speedway in Corning, Iowa and the Junction Motor Speedway at McCool Junction, Nebraska. Those wins helped him to a third place finish just 40 points behind series champion Kyle Berck.

2016 was also a good year for Schaller at the I-80 Speedway where he posted a win and won a four way battle to claim the 2016 Super Late Model Championship. "One of the things I like about being able to run both the I-80 weekly schedule and the SLMR," states Schaller. "is that you get comfortable running against many of the same drivers and its abou the right number of races to run for the year."

In 2017, Schaller won the Malvern Bank Super Late Model feature at the US30 Speedway near Columbus. He also posted three wins at I-80 Speedway in the NASCAR Weekly Racing Series.

Schaller started his racing career in a go kart in 1992 and graduated to IMCA Street Stocks in 1999 and Grand Nationals in 2001, when he won the Butler County points championship and Rookie of the Year. He later ran with the CNCTA and the NCRA series. After the 2008 season he took some time off before returning to racing in 2013 in the Super Late Model class.

Schaller sponsors and support include Schaller Racing Engines and Shocks, Sutter Family Racing, Steve's Yard Care, Hinze Chiropractic and Acupuncture, Dave's Home Improvement, Driven Racing Oil and Spud Trucking.

"I got into racing because my dad, Will Schaller has owned race cars ever since I can remember. Throughout my younger years I ran around the pits and watched his drivers," says Schaller. "I ran around the pits and watched his drivers, Kim Lingenfelter and Sam Jacobs race."

Schaller said his racing goals are "to continue to learn new things to keep us competitive and to continue to have fun doing it. It's great to be able to show my kids that hard work can pay off and if there re times that things don't necessarily go your way that doesn't mean you point the finger at someone else and give up. You work hader and things will turn around."





---
To post messages you must be logged in as a member of dirtdrivers.com.

View Copyright Infringement Contact Information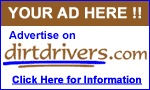 View Advertiser Index
Register
Become a registered user of dirtdrivers.com!

Register Now!
Dirt Driver Directory
Ever wondered what your favorite driver does for a living? When he or she started racing? What is behind the number on the car? You don't have to wonder anymore!

View Dirt Driver Directory
Classifieds
Looking for any new or used racing parts? Check out our online classified section to help find the parts you need!

View Classifieds