View Advertiser Index
4/7/2017

I-80 Speedway (NE)

360 Sprint
1) 21k Thomas Kennedy
2) 7w Tasker Phillips
3) 18 Ryan Roberts
4) 24m Terry McCarl
5) 4j Lee Grosz
6) 4a Jon Agan
7) 40 Clint Garner
8) 09 Matt Juhl
9) 13v Seth Brahmer
10) 2 Don Droud, Jr.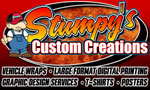 View Advertiser Index
Register
Become a registered user of dirtdrivers.com!

Register Now!
Message Board
Check out what others are talking about on dirtdrivers.com!

View Message Board
Advertise on dirtdrivers.com
dirtdrivers.com can help drive traffic to your site! Send us an email and we can put together a special package that will meet your advertising needs!

View Advertising Options
Dirt Driver Directory
Ever wondered what your favorite driver does for a living? When he or she started racing? What is behind the number on the car? You don't have to wonder anymore!

View Dirt Driver Directory