View Advertiser Index
Posted on 9/21/2018 11:17:32 PM
2016 Missile former Ben Schaller state champ car

We have a 2016 Missile up for sale. Car is a very nice piece. 2016 State Champ car with Ben Schaller driving.
3rd in points in the SLMR in 2016.
Won I-80 Pts championship in 2016.
8 nights total in 2017.
6 nights total in 2018.
Car is a DOCAL chassis.
This car has the best parts money can buy.
Winters 8" Quickchange w/DRP axles. 4.11 ring and pinion
Magnusium Hubs
Wehrs double shear birdcages
4.0 appleton rack
low drag bearings with spacers
Brakeman brake system.
Stepper guages O/P, W/T, F/P, W/P, O/T
Protech 28 gallon fuel cell
Lucas Oil and MLRA legal
14,000
Car will come complete less MOTOR, TRANS, OIL SYSTEM,
SEAT, FIRE SUPPRESSION, SHOCK, WHEELS AND TIRES

Please call Jr. with any questions on car 402-649-2026

It is available in many stages including race ready for additional price.

Extras available.

All aluminum engine built by Schaller Racing Engines.
Bert Ball Spline Transmission
5 Stage dry-sump with additional 2 stage fuel and power steering pump. 6 night old carbon fiber driveshaft.
10b fire suppression.

Please no tire kickers and no i dont need help selling.



---

Contact Information:
Jon Haase
Phone: (402)358-0772
Email: haaseracing45@plvwtelco.net


---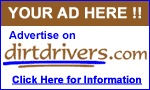 View Advertiser Index
Register
Become a registered user of dirtdrivers.com!

Register Now!
Message Board
Check out what others are talking about on dirtdrivers.com!

View Message Board
Advertise on dirtdrivers.com
dirtdrivers.com can help drive traffic to your site! Send us an email and we can put together a special package that will meet your advertising needs!

View Advertising Options
Dirt Driver Directory
Ever wondered what your favorite driver does for a living? When he or she started racing? What is behind the number on the car? You don't have to wonder anymore!

View Dirt Driver Directory