View Advertiser Index
Posted on 10/8/2018 9:58:16 AM
1986 Cutlass V6 motor and trans...Streeter?

Ran a season at Columbus without adding any oil or turning a wrench on it. I have cleaned and "simplified" the dualjet and "locked" up the computer HEI. Transmisson shows no issues. Looking to sell/ replace with 350/powerglide/crate combo for next run...? Clutch fan,p/steer still there and on, No Alt., trans runs thru back window cooler. She's antifreezed up and put away, but still here. Call with ideas.


---

Contact Information:
Dale Primrose Jr., Team 12 Racing, Pettitt Plbg, etc..etc
Phone: (402)841-1212 will call back from text only
Email: pettittplumbing@telebeep.com


---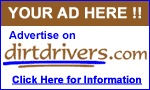 View Advertiser Index
Register
Become a registered user of dirtdrivers.com!

Register Now!
Message Board
Check out what others are talking about on dirtdrivers.com!

View Message Board
Advertise on dirtdrivers.com
dirtdrivers.com can help drive traffic to your site! Send us an email and we can put together a special package that will meet your advertising needs!

View Advertising Options
Dirt Driver Directory
Ever wondered what your favorite driver does for a living? When he or she started racing? What is behind the number on the car? You don't have to wonder anymore!

View Dirt Driver Directory