View Advertiser Index
---
Subject: WANTED: Old Time Race Car Drivers and Pit Crews

Posted by
Message
Been There
Posted on 3/19/2019 5:40:51 AM

WANTED

Old Time Race Car Drivers and Pit Crews

A group of old timers have gotten together and would like to start a Reunion between old timers, young drivers and crews.



Our plans are to get together April 6, 2019 at the Colfax County Fairgrounds in Leigh. We figure this is a central location between Albion, Columbus, Norfolk and David City.



For anybody that is interested, we are going to start around 4:00 p.m. until who knows!!!!! We will supply food and ask that you B.Y.O.B.



If we have enough interest, we would like to make this an annual event.



If you have old programs, newspaper clippings, pictures, etc. from the old days, please bring them along. We want to tell a lot of stories from the old days.



We will be posting this on Dirt Drivers and FaceBook. If you see this, please contact people you know and pass the word.


Donít forget, No Green Flags. So the B.S. canít stop!!



Contacts:

Larry: 402-371-0506

Dale : 402-487-2619

Ron : 402-276-1353

Jim : 402-285-0613

Edited on: 3/19/2019 5:40:51 AM



---

Its true, You can win every race when you sit in the stands!

---
To post messages you must be logged in as a member of dirtdrivers.com.

View Copyright Infringement Contact Information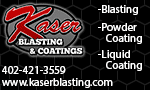 View Advertiser Index
Register
Become a registered user of dirtdrivers.com!

Register Now!
Dirt Driver Directory
Ever wondered what your favorite driver does for a living? When he or she started racing? What is behind the number on the car? You don't have to wonder anymore!

View Dirt Driver Directory
Classifieds
Looking for any new or used racing parts? Check out our online classified section to help find the parts you need!

View Classifieds