View Advertiser Index
---
Subject: PRACTICE STARTING APRIL 15TH

Posted by
Message
US30

US 30 Speedway Rep
Posted on 4/1/2020 9:07:46 PM

We have been in contact with the East Central Health District and this is what they will allow. These guidelines will be strictly followed for our safety and the safety of our drivers.

-NO GRANDSTAND ACCESS. DON'T EVEN TRY
-NO SPECTATORS ALLOWED (I KNOW, THAT SUCKS)
-4 cars allowed within a 2-hour session. Driver plus ONE pitman allowed per car.
-Cars must park 100' from each other (we'll be utilizing the 4 corner cement pads)
-Call Bobby Lincoln to book: 402.563.1515

Sessions start :
Friday, April 10th- BOOKED FOR CHARGER CHASSIS
Saturday, April 11th- BOOKED FOR CHARGER CHASSIS
Sunday, April 12th- minimal spots available
Monday, April 13th-BOOKED FOR RAZOR CHASSIS
Tuesday, April 14th- BOOKED FOR RAZOR CHASSIS

Open sessions start: April 15th
Weekday session times:
noon-2pm
2pm-4pm
4pm-6pm
6pm-8pm

Weekend session times:
10am-noon
noon-2pm
2pm-4pm
4pm-6pm
6pm-8pm
8pm-10pm



---

"Home of Thursday Night Thunder"

---
To post messages you must be logged in as a member of dirtdrivers.com.

View Copyright Infringement Contact Information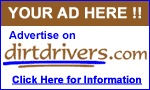 View Advertiser Index
Register
Become a registered user of dirtdrivers.com!

Register Now!
Dirt Driver Directory
Ever wondered what your favorite driver does for a living? When he or she started racing? What is behind the number on the car? You don't have to wonder anymore!

View Dirt Driver Directory
Classifieds
Looking for any new or used racing parts? Check out our online classified section to help find the parts you need!

View Classifieds