View Advertiser Index
---
Subject: A Tribute Race to honor Don Mohr

Posted by
Message
BigAck

I-80 Speedway Rep
Posted on 2/8/2018 12:19:46 PM

A Tribute to Don Mohr

I-80 Speedway is excited to announce that they will be having a tribute race in honor of the late Don Mohr. The event will be held along with the Charlie Clark Memorial on Sunday, May 27. The Tribute to Don Mohr will be for the Stock Car/ProAm Class and the feature will be 24 laps in distance. It will start 24 cars (23 plus one missing spot) and will pay $2,424 to win and $124 to start.

Don was a long time area driver who was involved in area racing for over 30 years. He raced at Sunset Speedway and later I-80 Speedway and was a stable in the ProAm and later Stock Car/ProAm class. When we did a program story in 2014 celebrating 30 years of the Pro Am Class, Don stated that "I have only ran two different cars in the ProAms over the entire 30 years. I started with a 1968 Chevelle and in 1994 we started running the Camaro." Don switched out the Camaro and his Monte Carlo the last couple of years. We sadly lost Don on January 29, 2018.

I-80 Speedway is located one block north of Interstate 80 Exit 420, halfway between Omaha and Lincoln. The Physical Address is 13909 - 238th Street, Greenwood, NE. For more information, visit www.i-80speedway.com or call (402)-342-3453. Don't forget to follow us on Facebook and Twitter.

---
To post messages you must be logged in as a member of dirtdrivers.com.

View Copyright Infringement Contact Information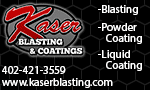 View Advertiser Index
Register
Become a registered user of dirtdrivers.com!

Register Now!
Dirt Driver Directory
Ever wondered what your favorite driver does for a living? When he or she started racing? What is behind the number on the car? You don't have to wonder anymore!

View Dirt Driver Directory
Classifieds
Looking for any new or used racing parts? Check out our online classified section to help find the parts you need!

View Classifieds