View Advertiser Index
---
Subject: Highlights from Central Missouri Speedway 5/14/22

Posted by
Message
Ant9000

MBSLM Series Rep
Posted on 5/15/2022 12:15:01 AM

McKenna Scores First West Series win with Dominant Central Missouri Run
By Anthony Ainslie
5/14/22

Super late model racing returned on Saturday after a five-week hiatus as the Malvern Bank West Series headed south for their annual trip to Central Missouri Speedway.
After eight consecutive rainouts for the Malvern Bank and Hauliní with Hoker Trucking Super Late Model Series, The West Series kicked things back up with the tourís third ever visit to the high-banked Central Missouri Speedway in Warrensburg. A field of 16 cars made the trip to the tourís sourthernmost stop on the tour, but the tight confines made for close racing all night long. Three Missouri natives came out to defend home turf including 2-time Central Missouri Speedway Track Champion Jon Binning and former MLRA Champion Jesse Stovall
Charlie McKenna sat on the pole for the 25-lap main event with fastest qualifier Jake Neal on the outside. After an early yellow flag, McKenna settled into the lead as Neal battled with Defending Series Champion and Point Leader Tad Pospsil for the second spot. The battles continued up front as Corey Zeitner and Jesse Sobbing went side-by-side for fourth.
On a restart with only seven laps remaining, Pospisil and Neal made contact going for the second spot which sent Pospisil around, and Neal went to the work area for repairs. Pospisil would go on to finish 12th while Neal finished 14th.
One final caution came out with two laps to go giving Jesse Sobbing and Bill Leighton Jr. a chance to take the win away from McKenna, but McKenna was up to the challenge. The Ames, Iowa native went on to lead all 25 laps to capture his first Malvern Bank West Series win and the third West/East Series of his career.
Sobbing and Leighton took second and third while Corey Zeitner and Jesse Stovall rounded out the top five.
The Malvern Bank West Series will return to action on Sunday, May 22nd as the tour heads up to Stuart, Iowa for a rescheduled first visit to Stuart International Speedway. After that, the Hauliní with Hoker Trucking East Series opens up their 2022 season with a big Memorial Day weekend tripleheader.


---
To post messages you must be logged in as a member of dirtdrivers.com.

View Copyright Infringement Contact Information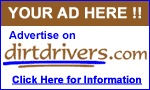 View Advertiser Index
Register
Become a registered user of dirtdrivers.com!

Register Now!
Dirt Driver Directory
Ever wondered what your favorite driver does for a living? When he or she started racing? What is behind the number on the car? You don't have to wonder anymore!

View Dirt Driver Directory
Classifieds
Looking for any new or used racing parts? Check out our online classified section to help find the parts you need!

View Classifieds
---
Muscle Cars