View Advertiser Index
---
Subject: Ward, Jerovetz, Sachau, Knutson, and Zehm score first season wins

Posted by
Message
Boone Speedway

Boone Speedway Rep
Posted on 5/15/2022 1:19:26 AM

May 14, 2022

It was week #3 of weekly racing at the Boone Speedway on Saturday night.  A light shower prior to hot laps quickly passed and racing went on as usual with no delay.

There were all new winners for the season, with Tim Ward capturing his first IMCA Modified feature.  It was Troy Jerovetz winning in the IMCA Stock Cars, and Jake Sachau took checkers in the IMCA Northern SportMod class.  Eric Knutson visited Victory Lane for the first time this season in the IMCA Hobby Stock division, and it was Bryan Zehm taking his first win of the year in the IMCA STARS Mod Lite action.

In the IMCA STARS Mod Lite 15 lap feature, Bryan Zehm caught early leader Ben George and took over the top spot at lap six, never to look back.  Lap traffic was no issue for the Ames driver as he held the pack at bay to capture the win.  Joel Huggins, who had won the two previous races, started in tenth spot, but came up a bit short this week, and finished as the runner up.  Derrick Knutsen was third, fourth went to Jon Braathun, and Austin Gray rounded out the top five.

The IMCA Northern SportMod 18 lap feature was a no go on the initial start, as several cars did not make it out of turn one.  When things did get underway, it was Robert Stofer leading the field on lap one.  However, Jake Sachau, who started ninth, had other ideas and made the pass going down the backstretch and was the leader as lap two was scored.  From there on, it was all Sachau as he motored home to his first victory at Boone this season.  Rocky Caudle came from fifteenth starting spot to take second place, and Kenny Wyman, Jr. advanced sixteen positions to take third.  Fourth went to Cory Pestotnik, and Blair Simmons was fifth.

Tim Ward visited Victory Lane for the first time this season, winning the IMCA Modified 20 lap main event.  He snagged the lead away from Russ Dickerson at lap six, and pulled away in the last handful of laps to take the easy win.  Nick Roberts finished in second, and third through fifth was a toss up as to the outcome, with Johnathon Logue, Jake McBirnie, and visiting Trenton, Missouri racer, Cory Wray duking it out for position, sliders being thrown left and right.  Logue won the battle to take third place,  and Wray just made it past McBirnie in the closing moments, as they went fourth and fifth respectively.  Those three drivers started tenth, eleventh, and twelfth.

Earlier in the evening, the Modifieds ran a King of the Hill contest. The top 8 in track points were locked in, and 8 more qualified through heats. The final four drivers left standing after elimination rounds were Jake McBirnie, Randy Havlik, Albert Wolfgram, and Jamie Anderson.  McBirnie would be crowned King of the Hill with his win and take home an extra $500.

The Class too Tough to Tame, the IMCA Stock Cars put on their usual exciting racing action for the fans.  The Game Changer, Dallon Murty had the lead early in the 20 lap thriller, with Troy Jerovetz tagging right behind in second.  Donavon Smith would soon join in the mix, and not to be left out, veteran Randy Brands threw his hat into the ring as well.  Jerovetz was able to wrangle away the lead, but those competitors never went away, as they dug for better positions.  In the closing moments, Jerovetz was able to hang on to the lead, and take the checkers first, with Murty a very close runner up.  Donavon Smith took third, Randy Brands was fourth, and last week's winner, Josh Daniels came from fifteenth, to finish fifth.  Three former Super National's champions finished behind winner Jerovetz.... Murty, Smith, and Brands.

The night's racing ended with the 15 lap IMCA Hobby Stock feature.  Matt McDonald started ninth, and snatched the lead from Mark Hidlebaugh by lap four, and pulled away.  The closing laps then found Eric Knutson come flying on the topside, and reel in the leader.  With a lap to go, Knutson was able to gain the top spot, and then hold it to the finish line and the win.  McDonald had to settle for second place, John Watson came from eleventh to finish third, Seth Butler was fourth, and early leader Mark Hidlebaugh was fifth.

Weekly points racing continues next Saturday night, May 21, with racing in all five IMCA divisions and the Outlaw Mini Mods joining the racing action.  Hot laps are 5, with racing at 6.

---
To post messages you must be logged in as a member of dirtdrivers.com.

View Copyright Infringement Contact Information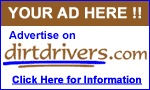 View Advertiser Index
Register
Become a registered user of dirtdrivers.com!

Register Now!
Dirt Driver Directory
Ever wondered what your favorite driver does for a living? When he or she started racing? What is behind the number on the car? You don't have to wonder anymore!

View Dirt Driver Directory
Classifieds
Looking for any new or used racing parts? Check out our online classified section to help find the parts you need!

View Classifieds
---
Muscle Cars