View Advertiser Index
Race Results
Salina Jaxson Memorial Speedway (KS)
---
7/8/2018

Adult Open Kart
1) 7 Jeff Bergeson
2) 81 Brett Bergeson
3) 66 Jake Bergeson
4) 241 Thad Clovis
5) 67 Caleb Davis

Adult Clone Kart
1) 33 Justin Johnson
2) 22 Tommy Shea
3) 7d Chase Davis

Junior 2 Kart
1) 45k Kahne Johnson
2) 45x Kyler Johnson

Junior 1 Kart
1) 45x Kendyl Johnson
2) 11c Chace Phillips
3) 7c Connor Barnes
4) 20 Jacob Bofink
5) L20 LaMarr Bates
6) 24d Danison Lagroon
7) 24c Cale Lagroon
8) 20h Wyatt Huffman
9) 1 Conner Fuller

Rookie Kart
1) 55p A'Den Peterson
2) t99 Trey Lindsey
3) 05 Chad Bennett, Jr.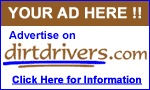 View Advertiser Index
Register
Become a registered user of dirtdrivers.com!

Register Now!
Message Board
Check out what others are talking about on dirtdrivers.com!

View Message Board
Advertise on dirtdrivers.com
dirtdrivers.com can help drive traffic to your site! Send us an email and we can put together a special package that will meet your advertising needs!

View Advertising Options
Dirt Driver Directory
Ever wondered what your favorite driver does for a living? When he or she started racing? What is behind the number on the car? You don't have to wonder anymore!

View Dirt Driver Directory