View Advertiser Index


January 2004

Well the 2004 race season is almost upon us in the area. There are several drivers in new rides and making big plans for the season.

Rockin Ronnie Wallace of North Platte, Ne has a new Jet Mod on the way and is racing the recently purchased ex-Johnny Saathoff mount of Rocket Bob Aspenleiter in the Winter Series at Canyon Raceway in Arizona. He started out the season the right way picking up the opening weekend win.

David Trauernicht of Beatrice along with Lance Borgman are making the trip to the Ark-La-Tex Speedway in Vivian, LA for their first racing action of the 2004 season. Lance will racing the $5000 to win Stock Car Race and David will be debuting his new Big Dog Chassis in the $750 to win Modified portion of the race.

With Junction Motor Speedway of McCool Junction planning on running every other Wednesday night IMCA Sanctioned Modifieds and Stock Cars along with US 30 Speedway in Columbus moving to Thursdays that will give the I.M.C.A. National Championship Chasers 5 nights of racing every other week and 4 each week. This could lead to a very interesting National Championship Race in 2004.

4-time I.M.C.A. Champ Johnny Saathoff will be debuting a new scheme on his familiar 96j mount that will catch all fans a little off guard it is something that he has never even came close to before.

2-time IMCA Champ David Murray of Oberlin, Ks is also racing in the Winter Series at Canyon Raceway, AZ in a BMS Mount owned by Ira Compton of California.

The Blue and Yellow 29 Harris Modified of the M and N Racing team has another brand new Harris sitting in its stable for the Washington, Ks hot shoe Greg Metz.

Beatrice Speedway has their annual I.M.C.A. Spring Nationals slated for the 3rd weekend of March. This is a must see for Modified fan in the Midwest. Also great racing and a great car count.

This will be the last season for the Factory Stock Class at Beatrice Speedway it was announced at the rules meeting that the class will be discontinued after this season so those drivers will have to make a choice for the 2005 season.

National Title threat Jason Friesen will be debuting the Schluter Racing Team Jet Mod this season in the quest to win the 2004 I.M.C.A National Championship.

Well I will close for now. See you the next time the checkers fall.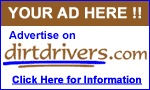 View Advertiser Index
Like to Write?
dirtdrivers.com is always looking for energetic people to write articles about local racing. Email us if you would like to join our team.