View Advertiser Index


February 2004

With the 2004 race season underway. There are several drivers in new rides and making waves early in the season.

Carl Edwards of Columbia, Mo who is now driving the #99 Truck for Jack Roush racing started out the season with a bang by winning the Florida Dodge Dealers 250 at Daytona Speedway, Fl.

David Trauernicht of Beatrice along with Lance Borgman made the trip to the Ark-La-Tex Speedway in Vivian, LA for their first racing action of the 2004 season. Lance struggled the whole weekend trying to get a handle on his car but had a good time. Trauernicht ran really well and was passing for the lead when mechanical gremlins snuck up and bit him in the I.M.C.A Modified portion of the event.

Another up and coming driver from the Midwest is Clint Bowyer of Emporia,Ks. Clint has a top 10 under his belt already this season in the ARCA/Remax series at Daytona and also has a Top 10 finish in the Nascar West Series at Phoenix International Raceway. Bowyer will also be sharing seat time in the Richard Childress Racing #21 Reeses Car with Kevin Harvick in the NASCAR Busch Series. /

Shane "Fred Edwards will be debuting his new Jet Mod in the Limited Modified class at Beatrice Speedway on opening night. He is looking forward to a good season with the new car.

2-time IMCA Champ David Murray of Oberlin, Ks picked up his first win of the 2004 race season in Arizona. With the added nights of racing in the area Murray should be a threat to win each and every night and make another strong run at the 2004 IMCA Modified National Championship.

Jordy Nelson of Marysville, KS an up and coming star is planning on racing at the Junction Motor Speedway for his first race of the 2004 season on March 12th and 13th. He was close several times last season to picking up his first career Modified victory and hopes to get it and more in the 2004 race season.

Beatrice Speedway has their annual I.M.C.A. Spring Nationals slated for the 3rd weekend of March. With 20 inches of snow on the ground this month it will be interesting to see if this event goes off on the scheduled date or is pushed back a week.

Belleville Motorsports of Belleville,Ks will be having an open house on February 21st and 22nd with BBQ being served both days and lots of specials. Belleville Motorsports manufactures the BMS Mods that David Murray has piloted to both of his I.M.C.A. Modified National Championships.

The 2000 Beatrice Speedway Modified Track Champion Mike Heideman of Seneca,Ks is hoping to make a more successful start to the 2004 season after having a bad first weekend in the 2003 rolling his new Jet Mod with less than 8 laps on it.

With now defunct Pro-am Class at Beatrice Speedway there should be some exciting racing in other classes with these always clean and fast drivers moving to other classes or hanging it up.

Tyler Phelps of Beatrice, NE will be taking the 2004 race season off to concentrate on his daughter Hailey's Motorcycle racing. Hailey's father used to race motorcycles too so could it be that she is following in Tyler's footsteps.

Benji Legg with be sporting a new look in the Limited Modifieds at Beatrice Speedway after purchasing the former Dirtworks of Jason Hughes of West Plains, Mo.

Nasty Boy Nathan Lundgren of Lincoln, NE will be debuting a new scheme and a new Jet Mod this race season so keep your eyes open. It will be something different that you would expect from the Nasty Boy Nate.

It won't be long and we will be seeing the Checkers fall here. So see you As The Checkers Fall.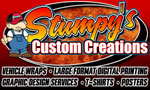 View Advertiser Index
Like to Write?
dirtdrivers.com is always looking for energetic people to write articles about local racing. Email us if you would like to join our team.