View Advertiser Index


July 2000

Good news! My wife is talking to me again. Heads up to all you husbands, a race t-shirt does not make a good Mother's Day gift, even though the silence was nice, especially during the Nascar races.

---
Like father like son, Matt Gropp's first time in the John Beecham owned Modified Lite (formally known as a Dwarf Car) put a waxing on the rest of the field at Greenwood Speedway on June 2nd. Similar to the way (dad) Rik did in the Nebraska State Championships at Nebraska State Fair Park in 1996. Also his first time in the seat of the car.

---
IMCA started with a noble cause and grew, because it was economical and fair. Now there obsession with stopping USMTS midweek shows could become their undoing.

---
The Nebraska State Race at Cornhusker Raceway Park in Waverly, NE saw Pat Brubaker of Red Cloud, NE pull out the broom. By sweeping all four races in the B-class and becoming the 2000 State Race Champion. Jack Dover of Springfield, NE won the A-main in the Jr. Sprints Class. Lincoln's Brad Krutz taking the checkers home in the Multi's. A-class feature winner was the number 58 of Scott Hathman of Columbia, MO.

---
Since 1911, Memorial Day weekend at Indianapolis has meant one thing, the biggest one-day sporting event in the world, with an annual attendance of more than 350,000.

---
The Second Annual Sandhills Modified Shootout will be held on Friday July 28th at Lincoln County Raceway in North Platte, NE. Winner of the A-main pockets $5,000 dollars.

---
Congratulations to Joel and Bobbie Stephenson on the birth of their son Collin.

---
How come nobody puts on mud drag races anymore?

---
Can you believe 189 entries at Bristol Motor Speedway in Bristol, TN for the $20,000 to win Hav-A-Tampa Dirt Late Model race, over 45,000 spectators in the stands. Can you imagine sitting through time trials. Dale McDowell of Rossville,GA won the event.

---
Does the NSCA really have the best sprint car driver's racing in the Midwest, like they advertise?

---
Put this in the I thought I've heard and seen everything category, Boone Speedway of Boone, IA, where the Speedway Supernationals are held every year, has purchased a Jet Dryer like the ones they use in Nascar to dry the track after rain. I'm really interested in how that works since Boone is a dirt track.

---
With all the sequels Hollywood is making when can we expect sequels to Stroker Ace and Six Pack.

---
Keith Hightshoe Racing in his sixth decade finished 12th in the main event of the Eighth Annual "Goodyear Masters Classic" in Knoxville,IA on June 2nd.

---
June 10th Russ's Market threw a kids day many area racers were present to show there cars off and to support their sport. Drivers Bringing cars out there: Trevor Grossenbacher and his Jr. Sprint, both Jason and Kevin Danley with their 360 sprints, TJ Artz and his good looking IMCA modified, also Carol Admay had his ASA car on display. This plus the Lincoln Fire Department had a fire truck and fireman on hand to teach kids the importance of fire safety. Hope to see it continued next year.

---
Has the 2-man cruisers taken the place of enduro races?

---
Joe Saldana, formerly a resident of Lincoln, NE and "Speedy" Bill Smith founder and owner of Speedway Motors, were among those inducted into the class of 2000 National Sprint Car Hall of Fame, in Knoxville, IA on June 2nd.

---
Tony Gregg of Hastings, NE, topped the O'Reilly Auto Parts NCRA vs. Super Late Model Series event at Belleville's High Banks on June 4th. The victory tightened Gregg's grip on the NCRA points lead. Gregg became the first driver to win twice this season as he drove around the high banked 1/2 mile for his fifth career victory.

---
By far best show of the first part of the season, the RMMRA vs. MARA Midget Shootout at Eagle Raceway. Forty-six Midget's with Steve Knepper of Belleville, IL winning in dramatic fashion with his last lap final corner pass of Dave Strickland Jr.

---
July 27-29 Vintage Midget, Sprint and Champ Car Exhibition meet at the "High Banks of Belleville, KS". Last event drew over 100 entries.

---
John Gerloff was the 1983 Sunset Speedway Points Champion in the Late Model division.

---
As of June 16th, Jason Friesen of Sutton, NE is in 2nd place in the IMCA Latemodel National point standings.

---
Jay Drake, the hottest driver in the SCRA Non-Winged World Championships, fresh off his win at Knoxville, IA, passed Phoenix, Arizona's Jeremy Sherman, just passed the halfway mark of the main event, and went on to win by half of a lap, at Eagle Raceway on June 22nd. Sherman held on for second with Rip Williams of Yorba Linda, CA, rounding out the top three.

---
Kyle Berck, of Marquette, NE, has maintained his lead in the Competition Performance Index (CPI) of the Nascar weekly racing series Great West Region. Berck competes in the NWRS Dirt Late Model division at Eagle Raceway.

---
US-30 Speedway in Columbus, NE was built in 1986.

---
Attention all modified drivers!! Beware if the #27H of Clint Holman pulls up at a track you race. Load the car back on the trailer!!!!! This guy drives like a heat seeking missile and the heat he seeks is the door, rear bumper, side quarterpanels, etc, etc, of his fellow competitors. Clint, one thing, trade the modified in for a station wagon and follow the County Fair demolition races!

---
The 1987 Knoxville Limited Sprint Car Champion was Mike Chadd, driving the well known Orange number 55, Jenson Construction sprint car.

---
Omaha's Joe Kosiski, dueled long and hard with Gary Webb to capture his 40th career O'Reilly Auto Parts All-Star series win. Kosiski started outside Webb of Blue Grass, IA in the fifth row of the 50 lapper race at Sunset Speedway on May 28th. Taking the lead from Webb on lap 16 then trading it back in fourth until lap 37 for good.

---
I have a great idea for the new Lancaster Events Center that's under construction on 84th and Havelock. It would be perfect for indoor racing during the winter months. 80,000 square feet of pure racing excitement.

---
1990 Rookie of the year in the 360 sprints at Eagle Raceway was Mike Masonbrink of Springfield, NE in car #17M.

---
A special thanks to Joe Orth for photos provided.

---
Until next time, see you where the dirt flies!

Please email questions or comments to wherethedirtflies@msn.com.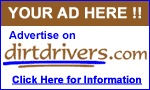 View Advertiser Index
Like to Write?
dirtdrivers.com is always looking for energetic people to write articles about local racing. Email us if you would like to join our team.