View Advertiser Index


Fall 2001

Congratulations to all the area 2001 Track Champions!! It takes so much hard work, perseverance and a little luck, to end the season on top. When winning a track title at any track in Nebraska, in any division, you can be very proud of what you have accomplished. Because there is no tougher competition than in the great State of Nebraska. Many of Nebraska's racers journey over the state line and into neighboring states and usually when they return home it is with the gold. So Congratulations drivers!!

2001 Track Champions

Beatrice Speedway
-Pro-ams - Bob Zoubek
-Factory Stocks - Ronda Mewes
-IMCA Hobby Stocks - Brian Langdale
-IMCA Stock Cars - Bill Wood
-IMCA Modifieds - Johnny Saathoff

Butler County Speedway
-IMCA Hobby Stocks - Brian Woosley
-IMCA Stock Cars - Jason Harms
-IMCA Modifieds - Tom Svoboda
-Limited Late Models - Ben Schaller

Eagle Raceway
-Flyers - Shane Stutzman
-Pro-Ams - Bob Zoubek
-IMCA Modifieds - John Schwartz
-Grand Nationals - Mike Kelly
-Sprint Cars - Rick Ideus

Nebraska Raceway Park
-Hobby Stocks - Joe Feyen
-Pro-Ams - Scott Anderson
-Grand Nationals - Mike Wallace
-Late Models - Joe Kosiski

Stuart Community Track
-Bombers - Mark Fox
-Street Stocks - Doug Wendell
-Late Models - Chad Deseive
-Limited Sprint - Keith Deseive

Mid-Nebraska Speedway
-Street Stocks - Jim Buss
-IMCA Modifieds - John Thompson
-Grand Nationals - Mark Henery

US 30 Speedway
-IMCA Hobby Stocks - Gary Shelly
-IMCA Stock Cars - Greg Johns
-IMCA Modifieds - James Kleinheksel
-Tough Trucks (Little) - Andy Alt
-Tough Trucks (Big) - Dan Alt
-Modified Lite - Marv Naggatz

---
September 2nd - Steve Kosiski led, flag to flag, to capture the 25-lap NCRA Late Model feature at the high banks of Belleville, KS. Kyle Berck tried everything in the books, including several low passes, when they got side by side, but he could not muster the pass and eventually had to settle for the runner-up position.

---
Mark Kinser won the inaugural Thunder Through the Plains race, that was held at State Fair Park Raceway in Lincoln on August 21st 1995. (The Thunder Through the Plains Tour features the All-star Circuit of Champions competing against the National Championship Racing Association "NCRA")

---
The Late Model Division was introduced to Sunset Speedway in 1968.

---
When most tracks are pulling the blanket over there race season, Dale Hoyle and Nebraska City Raceway are still turning laps. Nebraska City Raceway will be running a full schedule through-out the month of October. Racing every Saturday and Sunday (weather permitting). Classes competing are Go-karts on Saturday's and Modifieds Mini Sprints on Sunday's. Races get kickoff at 1:00pm with gate admission for spectators $6.00 and children 10 and under free. Track Phone: (402)873-4144.

---
Kent Tucker was the 1975 points champion at Midwest Speedway in the Super Stocks Class.

---
At the beginning of the 2001 race season, Beatrice Speedway officials stated that this would be the final curtain call for the Pro-am division. However after fans outcries and support throughout the season Alan Langdale and staff have had a change of heart. Pro-ams will remain on the card for the 2002 season.

---
Jim Wyman was the Sunset points champion in 1963.

---
Don Droud Jr. captured the checkered flags on September 8th at Denison Iowa's Crawford County Speedway and collected the winners purse. Droud took the lead on lap five from Seth Brahmer, of Wisner, NE and never let up, to post an impressive win over Ryan Anderson of Charter Oak, IA, who came home in second and Jake (The Snake) Peters of Sioux Falls, SD, followed in the third. (Brahmer developed car troubles and finished in nineteenth place.)

---
Dave Cook was the Eagle Raceway and Sunset Speedway Rookie of the year in 1997 in the Limited Late Model division.

---
John Logue overcame starting from the final position, to take his up unprecedented fourth IMCA Super Nationals Crown. A record 420 modifieds and a total of 725 cars in the five divisions, checked in at Boone this year. Drivers from 27 states competed at the Super Nationals and 11 states were represented in the Modified feature. Nebraskans making the Big Show and their final finishing positions:

Johnny Saathoff - Beatrice - 6th
John Thompson - Superior - 8th
Rusty Glosser - Lincoln - 13th
Chris Alcorn - Lincoln - 20th
Kevin Larkins - Greenwood - 33rd

---
On Saturday Sept 1st, at Eagle Raceway, 18 year old Billy Alley earned his first ever 360 Sprint car victory. As amazing and difficult as that is, it wasn't the first time that a young buck came a calling with only a handful of Sprint car races under his belt and put a spankin to Eagle's veterans. In 1998 17 year old Ryan Hergott of Hebron, NE, put on an exciting duel with Ray Lee Goodwin for the final 13-laps of the A-main and crossed the line in first to capture his very first 360 Sprint car victory.

---
Thayer County Speedway in Deshler, NE was the final stop on the NSCA Sprint Series schedule on Sept 9th. The 25 lap A-feature went non-stop green to checkered as Rodney Droud of Lincoln shot his way into the lead on lap 15 and race on to his first win of the year.

NSCA 2001 Final Points Standings:
Top five:

1 - Mike Chadd - Lincoln, NE
2 - Jeff Lowery - Lincoln, NE
3 - Rick Ideus - Roca, NE
4 - Rodney Droud - Lincoln, NE
5 - Seth Brahmer - Wisner, NE

---
The 1984 Late Model Sportsman division at Eagle Raceway saw a hard fought battle all season long, between Bill Baldwin and Tom Svoboda. Baldwin had a six point lead going into the final night of racing. Svoboda and his pink number 16 racer developed mechanical problems and was forced out of action. Baldwin took his number 6x Sportsman on to victory and the track championship. (J.J. Riggins was sprint car points champion and Alton Gottula won the Pro-am title)

---
When promoter Craig Kelly of Nebraska Raceway Park, hired Stan Cisar to be his race announcer, he not only got one of the top announcers, but someone who does a beautiful rendition of the National Anthem.

---
Big Events:

Oct 5 - 6 : Nebraska Raceway Park
Cornhusker Classic "100" featuring the O'Reilly All-Stars Series

Oct 5 - 6 : Beatrice Speedway
October fest 2001

Oct 13 - 14 : Thayer County Raceway
Fall Special

---
God bless America, land that I love. Stand beside her and guide her, through the night with the light from above. From the mountains, to the prairies, to the oceans white with foam. God bless America, my home sweet home.

---
Until next time, see you where the dirt flies!

Please email questions or comments to wherethedirtflies@msn.com.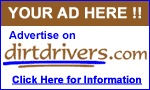 View Advertiser Index
Like to Write?
dirtdrivers.com is always looking for energetic people to write articles about local racing. Email us if you would like to join our team.