View Advertiser Index


May 2003

If you look at the sports of Boxing and Auto Racing, there are a lot of similarities between the two.

In Boxing there is a manager and trainers to take care of the fighters in between rounds.
In Racing there is a crew chief and crewmembers to take care of a driver and his car in between races.

In Boxing the fighters are both weighed before each fight.
In Racing most classes and divisions must be weighed and meet a certain weight.

In Boxing they compete in what they call a squared circle.
In Racing they compete in driving around in circles.

In Boxing the champion is usually decided buy who earns the mosts points through out the fight.
In Racing the champion is crowned at seasons end by the racer who tallies the most points through out the season.

After all this mindless rambling you ask what this is all about. Well the History of Boxing long precedes that of Auto Racing. So this is why I think Racing should adapt one more similarity from the great sport of Boxing. Round Girls, that's right those bikini clad females that walk around the ring holding up a card, letting you know what round it is.
But in Racing they would be called Lap Girls. I can see it now they would parade up and down in front of the grand stands letting us all know what lap it is.

---
The combination of IMCA Modifieds and 360 Sprint cars have been running at Eagle Raceway for nineteen consecutive years.

---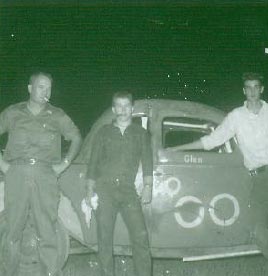 MYSTERY PHOTO


All I know is the picture was taken at the track that was once located at Capital Beach. Any guesses?

---
The Knoxville Nationals where run without wings for the final time in 1981. (Steve Kinser was the winner.)

---
G-force is the feeling of increased weight that results from acceleration, expressed in gravitational units; two G's would feel like two times your body weight.

A comparison of G-Forces:
NHRA funny car (take off) > 6.5 G's
Roller coaster > 5.5 G's
Space Shuttle (launch) > 4 G's
Formula One power boat (turns) > 4 G's
F-16 fighter jet (take-off) > 1.9 G's
Commercial jet (take-off) > 1.5 G's

---
Four companies have supplied tires for NASCAR through its history.
Goodyear, Hoosier, Firestone and McCreary
(In 1966, Goodyear introduced inner liners for NASCAR racing tires to help stabilize the race car in the event of tire failure.)

---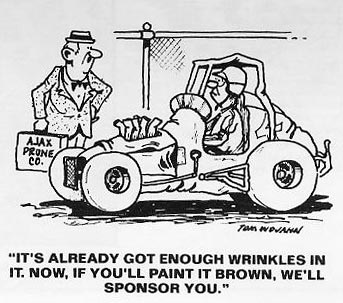 This is one of the many cartoons that was printed in the Midwest Speedway programs during the 1980's


Artist Tom Wojahn
---
Milo Stodola was the 1971 Amateur Division Track Champion at Sunset Speedway

---
"If we remove the crash from racing, we remove the test of courage, and then we might as well go play golf." - Dave Despain

---
Talking to former Mini Sprint driver Jose Reyes at Wave-Link Raceway recently. I was told that the 2004 race season will see him buy a 360 sprinter and strap Gene The Dream Aukland in as his jockey.

Also chatting with young Hot Shoe Ryan Roberts about his future plans. Ryan stated he would run the 2003 season out in the Minis at Wave-Link and Kam Raceway in Hastings. Then sell his ride like brother Robbie has and combine their bag full of loot, and get a 360 and lay claim to taking home the rookie of the year hardware at Eagle in 2004.

---
The blue and yellow flag tells lapped or slower drivers to "move over" and allow faster cars to pass.

---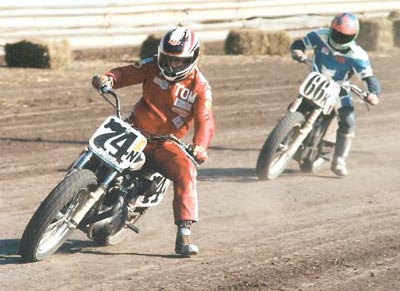 Lincoln racer Tom Laird #74 who competes with the NFTRA (National Flat Track Racing Association)
Doing what he does best, taking into the corner hard and fast.
Photo By, Don & Vickie Mahony
The NFTRA's only Nebraska racing appearance in 2003, will be at Thayer County Speedway on August 10th

---
The fuel cell (rubber liner inside the gas tank) was introduced to racing in 1965 to reduce the hazard of fire.

---
You might be a racing fan if...

Your mechanic has to remind you to stop referring to him as "your crew chief"
Your wife has to keep telling you, "it's your driveway, not victory circle."
You think the first car at a stoplight is "on the pole."
You say, "but officer, I wasn't tailgating, I was drafting!"
Only the driver's side of your windshield gets cleaned.

---
Blue Springs, Nebraska racer Brent Schlake is currently sitting in sixth place in the IMCA National Hobby Stocks points. The twenty-year-old Schlake who has only been spinning laps for three years, races a 1981 Buick Regal at Butler County Raceway, Beatrice Speedway and Thayer County Speedway.

---
The first NASCAR track in the United States to have banked turns was North Wilkesboro Speedway in North Wilkesboro, NC.

---
Johnny (The Jet) Saathoff (center) at Eagle Raceway in 1980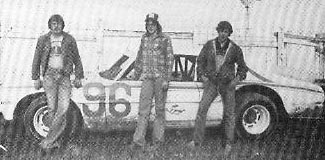 Saathoff captured IMCA Modified victory number 200 on May 24th of this year at his home track of Beatrice Speedway.
(Beatrice Speedway was also the same site that victory number 100 came. That win was on July 11th 1998)

---
www.dirtdrivers.com fast facts:

There are currently over 600 driver profiles listed in the Dirt Driver Directory, with the number growing daily.

Nebraska Raceway Park leads the way with over 160 drivers registered in.

The month of May will see around three million hits to the dirtdrivers.com site.

There have been single days that dirtdrivers.com has received 150,000 hits.

---
In 1960, Jack Smith was the first driver to use a radio to talk to his crew.

---
Former Christi Passmore Crew Chief, Jay Eckley, has come home in a big way in 2003. After the GAP race team parked their winged sprint operation following the 2002 race season to go ARCA. Jay brought all his racing knowledge and skills that he's tallied from working with one of the best in the engine business (WESMAR Racing Engines) and traveling from coast to coast, turning wrenches for the Passmore's, back to Big Red Country, where he has started up his own deal, Eckley Racing Engines. All his hard work in the off-season is already beginning to show. Mike Boston, who had a sick engine, put in a call to Jay about leasing one of his power plants. Then on May 3rd, Boston starting dead last in the 20 car A- Feature field put on a show by passing car after car to wind up an exciting fifth place. But more importantly moving into second place in this early season point's race. (Other racers taking advantage of Jay and Eckley Racing Engines insight are rookie racer Starvin Marvin Fuller and Jay's little sis Cori Eckley.)

---
Troy Ruttman was the youngest winner in the history of the Indianapolis 500, when he captured the checkered flags in 1952 at the age of 22.

---
(Al Unser holds the record for the oldest winning driver. When in 1987 at the age of 47 he took the win.)

---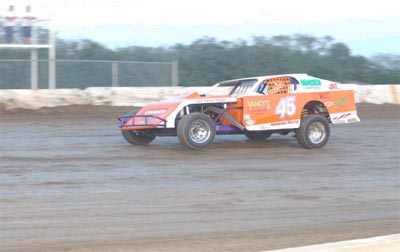 WARNING! Keep all hands and feet back. With a bite like that, your liable to pull nothing back but stumps!
Mike Heideman cranking it up, during some resent Beatrice Speedway racing action.
Photo by: Nick Vrtiska

---
There are more than over 24,000 listings on eBay relating specifically to NASCAR drivers, and more than one-third of them are for the great late Dale Earnhardt and son Dale Earnhardt Jr.

Drivers with the most listings on eBay:
-Dale Earnhardt - 19.0
-Dale Earnhardt Jr.- 14.5%
-Jeff Gordon - 13.2%
-Tony Stewart - 6.0%
-Rusty Wallace - 5.0%

---
Glossary of terms for spectators:

Blowing an engine - Fainting from the heat.

Changing compounds - Putting on a raincoat when it starts raining or removing layer of clothing as temperature rises.

Drafting - Rejecting a Pepsi for a beer

Pole Position - Person who gets to hold the extra beer.

Pit Stop - Trip to the restroom.

Long Pit Stop - Standing in line at the restroom (Occurs most often while race has been red flagged.)

Qualifying - Having enough money to buy a ticket.

Spinout - Sliding down in mud in parking lot.

Taking on fuel - Refilling from beer concession.

---
Ned Jarrett is the only driver to retire as a reigning NASCAR champion.

---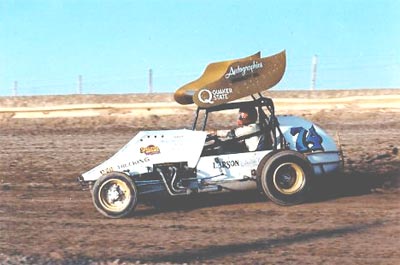 Dean Burling in 1981 at Midwest Speedway
Photo by Bob Mays

---
The first battle for Rookie of the Year in NASCAR, between two brothers was Jeff and Ward Burton, 1994.

---
SPRINT CAR COUNTRY FEELING

Racetrack out in country towns,
where good people like to meet.
A special kind of racing
you'll be surprised to greet.

Starting about late winter season,
just in time for my heart.
I need a sprinter that's been worked on
for all its racing to be seen.

Hours of dedication,
hard work and setting gears.
There's only little time they sit
and then they will appear.

Hooked-up country sprinter
for all the world to see.
You're showing where you're coming
from now my eyes believe.

You know she's all set up
just right according to the track.
The drivers are all special guys,
racers of one kind.

The small guy counts as special too
no matter how behind.
They know just where they're going
forever will they bind.

They'll give you a sure feeling
but don't ever turn your back!
Upside-down nose to tail
the roll cage takes its part.

Aluminum wheels spinning faster
in the "Beautiful Dirt" they make their chart.
Front ends that leap a foot or two
winding up to make it last.

Broadsiding into turns they slide
higher up the groove
some choose to ride
who would dare to pass!?!

A sprint car country feeling
is spreading across the land.
A sprint car country feeling,
the outlaws will always band.

So if you stroll your heart someday,
upon a country racetrack.
You'll treasure all the great feelings you had forever,
always wanting to go back.

A. Kapp
Hanover, PA.

---
What ever happened to Lyle Sinner?

---
Until next time, see you where the dirt flies!

Please email questions or comments to wherethedirtflies@msn.com.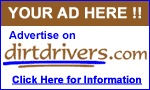 View Advertiser Index
Like to Write?
dirtdrivers.com is always looking for energetic people to write articles about local racing. Email us if you would like to join our team.