View Advertiser Index


June 2001

What is it about racing, that turns it into an addiction? What makes it that you have to be there every week, like some TV show that you can't afford to miss one episode, or a book that you can't put down, until you have read the last page? What is it that as soon as one rain drop falls on a race day that you become depressed and feel that the whole day is shot. Even though it is only 11:00 am? Is it the compelling story that unfolds in front of you every week on that circle of dirt? Is it the friends and family that you sit in the stands with? Is it the camaraderie that you can enjoy after the races in the pits with the driver's and their crews? What is it with racing that makes you turn your entire wardrobe into a walking billboard of your favorite racer? What is it that at the end of the summer when people ask what you did this summer, you can only say that you went to the races? What is it!?

---
Ed Kosiski added another chapter to the family's rich racing history April 29th, by winning the inaugural Late Model feature as Nebraska Raceway Park made its debut. The newly renamed Nebraska Raceway Park, formerly I-80 Speedway, is carrying on the tradition established at Omaha's Sunset Speedway, which closed after the 2000 season. Dave Livingston earned his first feature win ever in posting a commanding victory in the Grand National A-main and Scott Anderson held off a late charge by Mark Day to take the checkered flags in the Pro-am feature.

---
In four shows the Husker Late Model Shootout (UDTRA), the Midget Challenge East meets West, the Non-Wing Sprint World Championship (SCRA) and the Eagle Nationals (featuring three days of the World of Outlaws), Eagle Raceway will have shelled out purses of over $250,000.

---
Smokin Joe Wade won the 50-lap IMCA Stock Car race held at Lincoln's State Fair Park in 1973.

---
Jason Friesen of Sutton, NE the defending Central Nebraska Circle Track Association (CNCTA) and IMCA Late Model National Champion captured his second victory May 18th, in the CNCTA Series race, held at Red Cloud Speed Bowl. Friesen won the second of two heat races, the cash dash and the feature for a clean sweep.

---
Remember this? 1974 the Olie Anderson Auto Daredevils coming this Sunday at Midwest Speedway. The Royalty of thrill shows presents, 24 spectacular stunts and motorized mayhem, including the T-Bone crash and the Stunning Russian Dynamite Death Chair-so terrifying you won't believe your eyes.

---
Earl Baltes owner and promoter of Eldora Speedway in Rossburg, OH, having to limit the entries to 275 drivers for the Eldora Million, the richest dirt track Late Model race ever held, will be run on June 8th and 9th. The winner walking away with a one million dollar check in his hand. (Nebraskans pre-entered - John Anderson of Omaha and Kyle Berck of Marquett)

---
Eagle Nationals Past Champions:

1984 - Steve Kinser 1992 - Sammy Swindell
1985 - Bobby Davis Jr. 1993 - Jeff Swindell
1986 - Mark Kinser 1994 - Steve Kinser
1987 - Steve Kinser 1995 - Steve Kinser
1988 - Steve Kinser 1996 - Mark Kinser
1989 - Jac Haudenschild 1997 - Mark Kinser
1990 - Steve Kinser 1998 - Steve Kinser
1991 - Doug Wolfgang 1999 - Steve Kinser
2000 - Mark Kinser

---
For every lap Tony Stewart completes in the Indianapolis 500 and in the Coca-Cola 600 he will donate $100 to the Victory Junction Gang Camp, a year-round center for children with chronic or life threatening diseases. His Indy car owner, Chip Ganassi, and Home Depot will also donate a like sum. If Stewart completes both races that would bring in $180,000. The camp is the creation of NASCAR driver Kyle Petty and his wife Pattie as a tribute to their late son Adam.

---
Don Droud Jr. just seemed to get faster as the 20-lap feature event progressed and took a late race lead, to gain his sixth career win at the famed Knoxville Raceway on May 12.

---
In 1972 on August 28th, Don Maxwell stopped what was Eagle Raceways longest win streak of four wins in a row by Lloyd Beckman. Beckman finished eighth in the race after a shock absorber broke midway through the 30-lap main event. Maxwell ran the chassis shop at Speedway Motors, the sponsor of Beckman's 4X car.

---
John Swanda of Lincoln has been greeting fans and selling tickets for over 20 years, at Cornhusker Raceway Park.

---
Indianapolis Motor Speedway in Indiana became the first oval track built primarily for auto racing. It opened on August 15th 1909. The 2 1/2 mile dirt track became dusty and rutty and was difficult to race on, so later that year owner Carl Fisher decided to pave the track with bricks. The track reopened in November, but this time after three million ten-pound bricks were put in place, "The Brickyard" was born. After running a number of races each year, the owners at the track decided it should hold one big annual event. At first they thought about 1000-mile race, but it was determined that it would be too long and that spectators could not be kept interested for such a long period of time. They then agreed on a formula where they could keep fans attention, for about six hours. Thus the distance was set at 500 miles. The first "Indianapolis 500" was run on Memorial Day, 1911. Ray Harroun, in a Mormon Wasp won the first event in six hours and forty two minutes.

---
What ever happened to Sammy Switzer?

---
Until next time, see you where the dirt flies!

Please email questions or comments to wherethedirtflies@msn.com.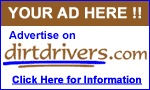 View Advertiser Index
Like to Write?
dirtdrivers.com is always looking for energetic people to write articles about local racing. Email us if you would like to join our team.