View Advertiser Index


September 2001

The other night at the races while the National Anthem was being played, I started to think how many times I have listened to it. Well after some research I found out the Anthem varies anywhere from 1 min, 19 sec to 1 min, 45 sec. With that in mind, I had to figure how many races I've attended in my 34 years of life. With a little help from my mom, I found out that I enjoyed racing at the early age of 6 months. I saw as many as ten races my first year! I can't imagine only going to ten races, that must have been a long hard winter for me. The amounts vary up until last year (2000) where I seen 112 races. So with my mathematician brain (yeah right!! I hated math in school) I came to the conclusion that I have been present at 2,097 races in my life. That is 3,146 minutes or 52 hours, all rounded off of course. That's a whole work week plus 12 hours of overtime. So What's all this mean? Nothing really, I just can't believe I don't know the words yet!

---
James Kleinheksel of Columbus, NE, is ranked in the top ten in the National IMCA Points race. He's currently leading the track point races at Boone County Raceway and US-30 Speedway and running in the top four at Eagle Raceway.

---
Don Droud Jr. became the inaugural winner in the 1200 Pound Nationals at Knoxville Iowa's Knoxville Raceway, after Kenny Jacobs, who came across the finish line first to take the checkered flag, was disqualified after the race as his car was under weight (1,193 lbs) Droud Jr. collected $12,000 for the win.

---
Bob Parker was the first ever points champion at Sunset Speedway in 1957. (Glen Robey, who is still racing and winning today, won the very first ever race in his 8-ball entry.)

---
The 3rd Annual Sandhills Modified shootout attracted 54 cars from 10 states, to Lincoln County Raceway in North Platte, NE. Wayne Brooks of Bald Knob, AR had took the lead on the last lap of the 40 lap A-feature to capture his second consecutive Sandhills Championship plus the $5,000 winners check. Jim Mlady of North Platte came home in second, with Zimmerman, MN driver Ron Jones in third.

---
Sheila Brahmer, sister of 360 sprint car driver Seth Brahmer, who competes at Eagle Raceway weekly, won the Knoxville Nationals Queen Contest.

---
Boone County Raceway, in Albion, NE, started racing in 1949 as a ½ mile dirt oval, then known as Albion Speedway. The track was changed to a 3/8 mile in 1975 and renamed Boone County Raceway.

---
Johnny Saathoff collected another trophy for the mantle, by posting an impressive win over a tough field at the Night of 1,000 Stars in Britt, IA on August 9th. Running in a close second was Jet Racing teammate Kevin Larkins who was coming on strong and just ran out of laps. (How quiet of a ride do you think that would have been if Larkins would have pulled off the win?)

---
TNN is going to tape delay their remaining World of Outlaws events. TNN claims this is to boost their ratings, which are currently low. Their plan is to run them Sunday afternoons, up against Nascar races. Does this make much sense? Especially after Nascar is riding their highest TV ratings of all times.

---
Ray Lipsey won the sportsman division points title of Beatrice Speedway in 1978.

---
Danny Lasoski drove to a runaway victory in the 41st Annual Knoxville Nationals, winning sprint car racing's most prestigious event for the second time in 4 years. Lasoski also the 1998 champion, led all 30 laps to claim the $125,000 first prize. Mark Kinser the winner the last two years finished second, more than 4 seconds behind. Kinser stayed with Lasoski early, then got caught behind some lap traffic. It was Lasoski's 77th career victory at the track.

---
Six different states (NE, OK, MO, CO, TX & KS) were represented at this years Nebraska State Race, held at Cornhusker Raceway Park in Waverly, NE, on August 17th. Sanctioned by the National Modified Midget Association (Micro Sprints). Shelby Stephens of Oklahoma City, OK, was the big winner in the Jr. Sprint class over Jack Dover of Springfield, NE. The B-class crown was won by Matthew Stelzer of Omaha, NE, Singles A-main saw Derrick Crank of Concordia, MO, take the checkers. A-class feature was captured by John Klabunde of Fort Calhoun, NE with the top three spots in the Multis going to the invaders from out of state. 1st Scott Sawyer of Bartlesville, OK 2nd Danny Davidson of Amarillo, TX, and 3rd Scott Hathman of Columbia, MO.

---
Can you believe this? Delegates at the U.S. Chess Federations have agreed to begin drug testing at tournaments, under pressure from the games International Governing body, which is trying to make Chess an Olympic sport. If Chess can be even considered to be an Olympic sport, then when can we expect to see Stockcar racing to join the games.

---
IMCA career Late Model wins for Nebraska Racers (1946-2001)

Bob Burdick - Omaha, NE - 40
Jason Friesen - Sutton, NE 37
Kyle Berck - Marquette, NE - 32
Al Humphrey - Giltner, NE 22
Tony Greg - Hastings, NE and Harold Schriner of Guide Rock, NE tied with 16.

---
I don't know how many racers Lincoln's Phil Durst sponsers, but it seems every time I see a driver standing in the winners circle, he's wearing a Durst Motor Plex Drivers suit.

---
2001 was a replay of 2000 for Kasey Kahne as he dominated all 40 laps of the Midsummer Midget Classic on July 31st, at Eagle Raceway, to pick up his second consecutive Midget Classic victory. Kasey then went on to top the 24th Annual Belleville Midget Nationals to become only the second back to back champion, in the event history. The other was legendary racer Stan Fox.

---
Scott Carlson has won unbelievable nine A-features at Nebraska Raceway Park in the Pro-am division (four in a row).

---
Joe Kosiski picked up his first O'Reilly Auto Parts All-Star Series win of the 2001 season at Topeka Kansas's Heartland Park Racing Complex on August 11th. John Anderson of Omaha ran in second with Garry Webb of Blue Grass Iowa rounding out the top three.

---
Top-5 O'Reilly Auto Parts All-Star Series Points:

Kyle Berck - Marquette, NE - 1,871
Gary Webb - Blue Grass, IA - 1,785
Joe Kosiski - Omaha, NE - 1,779
Ray Guss Jr. - Milan, IL - 1,725
Ed Kosiski - Ralston, NE - 1,702

(Berck currently leads the series with three wins, Gary Webb has two A-main wins and defending series champion Steve Boley, with Brian Birkhofer, Ed Kosiski, Jeff Aikey, Dave Eckrich and John Anderson with one victory a piece.

---
Rick Ideus became the first sprintcar driver in fourteen points races, to repeat as a feature winner (nothing against Rick, but I was pulling for the young hot shoe, of TJ Robertson, who led most of the race to pull off the victory, to keep the streak alive).

---
On my first trip to Des Moines, Iowa's State Fairgrounds Speedway. I was treated to one of the most exciting Late Model races that I have ever seen thanks to the always smooth racing of Joe Kosiski and hard charger Jeff Aikey. Kosiski started on the pole, while Aikey moved up from his third row starting position into second on the 13th lap. The next 22 laps saw Kosiski and Aikey trading the lead back and forth, six times, until the end, when Joe pulled away to win by five car lengths. The win was Joe Kosiski's first in the Deery Brother Summer Series action since 1993. (Jason Friesen of Sutton, NE finished 5th and now leads the series point standings over Mark Burgforf of Quincy, IL. Mike Wiarda of Aurora, NE took the 20th position).

---
August 17th, Scott Styskal of David City, NE, collected the $1,000 winner purse that went along with the win in the 5th Annual Budweiser Modified Special held at Butler County Speedway over and impressive collection of some of Nebraska's top guns in the Modified Ranks. Also on hand was the NSCA Sprint Car Series. Where Don Droud Jr., who was on a mission as he took the lead after the start of the feature and stayed in front for the entire race, completing a clean sweep of the night's event. The 57x of Jake Peters crossed the line in 2nd with Mitchell Moore in 3rd.

---
This years Nebraska Cup, featuring Late Models and Championship Sprint cars at Eagle Raceway on September 14-15. As put in the words of WWF's Wrestling announcer Jim Ross, "Could be one hell of a slobber knocker!" With over 80 different drivers in the championship sprint car divisions visiting the world's fastest 1/3 mile high banks during the regular season. I can only imagine how many will be packing the pits. That plus a stellar field of Late Models expected, insures an incredible event. Get there early and buy your popcorn and find your seat!!

---
BIG EVENTS:

September 3 - Labor Day Race at Mid-Nebraska Speedway
September 7 - NSCA Lawrence33 Ideus Memorial at Nebraska Raceway Park (also on the card - Modifieds & Hobby Stocks)
September 9 - NSCA Sprint Cars at Thayer County Speedway
September 20 - 22 - Pennzoil World of Outlaws at Nebraska Raceway Park
September 20 - 22 - 5th Annual Cruiser Nationals at Beatrice Speedway
September 22 - Championship Night at Mid Nebraska Speedway (Featuring - IMCA Modifieds, Grand Nationals, Street Stocks, Cruisers plus a Demolition Derby)
September 23 - Track Memorial Race at Nebraska City Raceway
October 5 - 6 - Cornhusker Classic "100" at Nebraska Raceway Park (Featuring the O'Reilly Auto Parts All-Star Series)
October 6 - 7 - October Fest at Beatrice Speedway (IMCA Modifieds, Pro-ams IMCA Hobby Stocks, IMCA Stock Cars and Factory Stocks)
Bring Back the $8.00 Super Pass to the Nebraska State Fair!!!!

---
Until next time, see you where the dirt flies!

Please email questions or comments to wherethedirtflies@msn.com.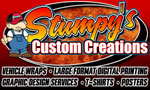 View Advertiser Index
Like to Write?
dirtdrivers.com is always looking for energetic people to write articles about local racing. Email us if you would like to join our team.