View Advertiser Index


March 2002

During this mild winter, I have taken advantage and tried to find shorter routes, to my favorite area tracks. In doing so, I have now knocked off thirteen and a half minutes from my voyage to Nebraska Raceway Park, depending on the vehicle I choose to take. My wife's Ford Focus doesn't go through the fields as well as my truck. I also managed to cut six minutes off of my trip to Eagle Raceway. Oh yeah, I'd like to apologize to that farmer by Greenwood. I swear I thought that was a road, and I didn't mean to scare your chickens.

---
Mike Stephens and the Stephens family, will once again take control of Cornhusker Raceway Park in Waverly, NE. The track has been renamed WaveLink Raceway Park (WRP).

---
Autolive, an automotive safety corporation that sponsored Mike Wallace's number 33 Chevrolet at the Daytona 500, is working on an air-bag system that could be ready for use in Winston Cup cars as early as next season.

---
Mike Johnson, from Council Bluffs, IA won the street stock 30-lap A-main in the inaugural Tiny Lund Memorial Nationals at the Shelby County Speedway in 1992. (Steve Reetz of Charter Oak, IA won the modified feature.)

---
The greatest show on dirt, The Pennzoil World of Outlaws series found itself without a television home to showcase it's wild racing action, ever since The National Network backed out of their motor sports coverage last year. The Speed Channel announced that it would remedy that situation. The Motor sports Network announced that it would air 26 hours of World of Outlaw coverage in 2002, beginning in May. Dates and times have not been announced yet.

---
Scott Carlson, who owned the Pro-Am divisions at Nebraska Raceway Park and Shelby County Raceway in 2001, will be racing in selected shows for Kosiski racing in a modified in 2002.

---
Bobby Hillin, at age seventeen is the youngest driver to begin a Winston Cup career. ( Hillin drove in the "World 600" just two days after he graduated from high school.)

---
Blackbird Bend Motorsport Speedway The Omaha Indian tribe is gambling cards and cars are a good mix. The tribal council has approved funds to build a ¼ mile dirt track oval. The racetrack will be built behind CasinOmaha and feature modifieds, hobby stocks and on special occasions sprint cars. Races will be held on Friday nights, when the track opens. It will seat 1,000 people. The goal is to open in April.

---
In 1984, the first year the Beecham family became owners and reopened Eagle Raceway. J.J. Riggins, from Lincoln, won an astounding twelve of fourteen A-features.

---
The Nebraska Auto Racing Hall of Fame has announced the inaugural Gordie Shuck Memorial Sportsmanship Award, which will be given out at the induction ceremony during the Nebraska State Fair in 2002. The award will honor someone in the racing community for outstanding sportsmanship during the past season. Shuck, from Edgar, NE was an inductee into the Nebraska Auto Racing Hall of Fame in 1999. He started his career in 1948 and retired from racing in 1958. Gordie was a champion driver of track roadsters, sprints, modified stocks and late models. The achievement he was most proud of was his 1953 United Motor Contest Association (UMCA) Sportsman of The Year Award. This award came the same year that he won the championship of the UMCA. Gordie Shuck passed away in January 2001, at age 74. The Gordie Shuck Memorial Award will be designed and based on his original UMCA award. It is being made possible by donations from the Shuck family. The award is open to anyone within the Nebraska racing community who has shown outstanding sportsmanship in the last year. Anyone wanting to nominate a person for this award, should send the nominee's name, along with a short explanation as to why they are being nominated to: Nebraska Auto Racing Hall of Fame, Inc. 821 Driftwood Drive, Lincoln, NE 68510. You can also send nomination by e-mail to: nebautohof@aol.com.

---
Do you think flagmen pull their flags out before the race season begins, and practice waving them?

---
Al Keller drove a Jaguar, the only imported car to have a Nascar victory on June 13, 1954.

---
Terry Richards Sr. captured the 1973 and 1974 late model stocks championship at Midwest Speedway.

---
Adams County Speedway in Corning, IA and located at the Adams County Fairgrounds was built in 1940.

---
A full IMCA stock car race has been added to the Saturday, March 23 Spring Nationals program at Beatrice Speedway. The first ever Spring Fling for the stocks will pay $600 to win and a minimum of $100 to start. Drivers who don't make the feature field will get $50 in tow money. National and regional points will be awarded. A practice session for both the stock cars and the modifieds runs from 6-9 p.m. Thursday, March 21st.

---
Here's a joke I heard: A reporter was walking through town, when he saw a small child being attacked by a pit bull. Just then, a boy ran over to the fracas, and with his bare hands grabbed the dog, pulled him off the child and snapped his neck, all in a quick motion. The reporter ran over and said, "That was the most courageous thing I've ever seen. I can see the headlines tomorrow morning, "Earnhardt fan saves child from vicious dog attack." "Well", said the boy, "that's great but I'm not really much of a fan of the Intimidator". "No problem" said the reporter. "I'll just make it read "Wallace supporter kills ferocious pit bull, saves small boy." "But I'm really not a Rusty Wallace fan either", said the boy." "Well", asked the reporter, "Who do your root for?" "I'm a fan of Jeff Gordon, the Rainbow Warrior in the number 24 Dupont Chevrolet Monte Carlo", he said proudly. Sure enough, the very next morning, the Charlotte Observer ran the following headline: "Redneck Punk Slays Beloved Family Pet."

---
On February 23rd at the Ridnour Plaza in the Lincoln Haymarket I attended the pre-season racing party of a new modified team that was formed over the winter. Velocity Racing which consists of racers, Bruce Hascall, John Nicholsen, Dave Vogt, Tim Vogt, John Slinkard and James Waltke. Velocity Racing has designed and built their own chassis which they plan to campaign at various area race tracks throughout the 2002 season. (I was told Dave Vogt took a car to a track in Texas for a test and tune over the winter and the car faired very well.)

---
What ever happened to Randy McDonald?

---
Until next time, see you where the dirt flies!

Please email questions or comments to wherethedirtflies@msn.com.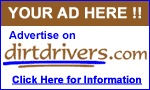 View Advertiser Index
Like to Write?
dirtdrivers.com is always looking for energetic people to write articles about local racing. Email us if you would like to join our team.