View Advertiser Index


Spring 2001

Goodbye old man winter and what a long one it was! A race fan can only watch so many Monster Truck reruns, before the need of some kind of live motorsports action kicks in. Trying to find some kind of racing in Nebraska during winter, is like trying to find a street in Lincoln without a pothole. So there I found myself at an Antique Tractor pull in February. The only thing I know about tractor's is that without them, we wouldn't be able to purchase sweet corn on the corner of every street, during the summer months, that and John Deere's are green. There I was trying to pick a guy to root for, but it's hard. They have no doors on the side of a tractor to plaster your favorite number on, like stock cars, and the closest thing to a sprintcar wing, is the NC Seed caps that every driver that went by, was wearing. The whole time all I could think of was one of these drivers is probably the same guy that drives down the middle of the high-way, in his combine, during the hottest part of July. Stopping me from getting to the race, before hot laps start or causing my truck to over-heat, which ever happens first. But after the first full pull, I started to really get into it. I'm not sure if it was the fumes or the sound of the pistons pumping the engines to life. I don't know what it was, but it awoke my heart, that seems to go into hibernation during the winter, only to be awakened by the sight of the green flag dropping. The smell of alcohol in the air and the thunder of cars coming around turn one. Gentleman or lady's, start your engines, Spring is here!. Let's go racing!!

---
Three of this year's ten new members of Belleville High Banks Hall of Fame inductees, have Nebraska ties. George "pop" Harding, of Doniphan, NE, started his driving career in 1915 and either drove or owned cars up through 1946. Jane Opperman, of Beaver Crossing, NE, now deceased, became famous as an Outlaw Sprint Car driver and two-time starter in the Indy 500 Ray Lee Goodwin, of Polo, MO, won many track championships in the 1960's and 1970's, along with the Knoxville Nationals in 1968.

---
Nebraska ranks second to Iowa in the title of Racingest State in America. Iowa boasts 41 weekly ovals. Based on Iowa's population, that works out to 69,682 people per track. Nebraska, with 23 tracks, 72,356 people per track, followed by New Hampshire, 14 tracks, 83.443 people per track and Kansas, 27 tracks, 95,770 people per track.

---
Bob Mays former Midwest Speedway photographer, is putting together a book covering 3 decades of Supermodified racing at various Nebraska and other Midwestern tracks.

---
Eagle Raceway announced that the Topless Late Model Nationals, in honor of Dwight Wrich, will be held Tuesday, July 3. Part of the proceeds from the event will go to the college fund for the Wrich children.

---
In 1995 Kevin Larkins won three track championships in the IMCA Modified division.

I-80 Speedway
Beatrice Speedway
U.S. 30 Speedway

---
And they say you can't make money racing. Formula One driver Michael Schumacher ranks number 1 in Forbes Magazine's list of the highest paid athletes for 2000. Schumacher earned $59 million driving for Ferrari last season.

---
On March 18th Johnny "The Jet" Saathoff, from Beatrice, NE, showed patience on a treacherous dry slick afternoon race track, to pocket the $10,000 top prize in the 2nd Annual Justin Stanfill Memorial, at the West Plains Motor Speedway, in West Plains, MO. (North Platte, Nebraska's Ronnie Wallace came home in fifth place in the 50 lap event.)

---
Pennzoil World of Outlaws career A-feature victories top five: (1978-2000) 1-Steve Kinser - 445 2-Sammy Swindell - 255 3-Mark Kinser - 131 4-Doug Wolfgang-107 5-Dave Blaney - 70

---
What ever happened to Bongo Bonrud?

---
Until next time, see you where the dirt flies!

Please email questions or comments to wherethedirtflies@msn.com.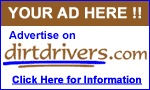 View Advertiser Index
Like to Write?
dirtdrivers.com is always looking for energetic people to write articles about local racing. Email us if you would like to join our team.